ROLLING STONE: Bluegrass Duo Dailey & Vincent on Bucking Tradition, New Country Album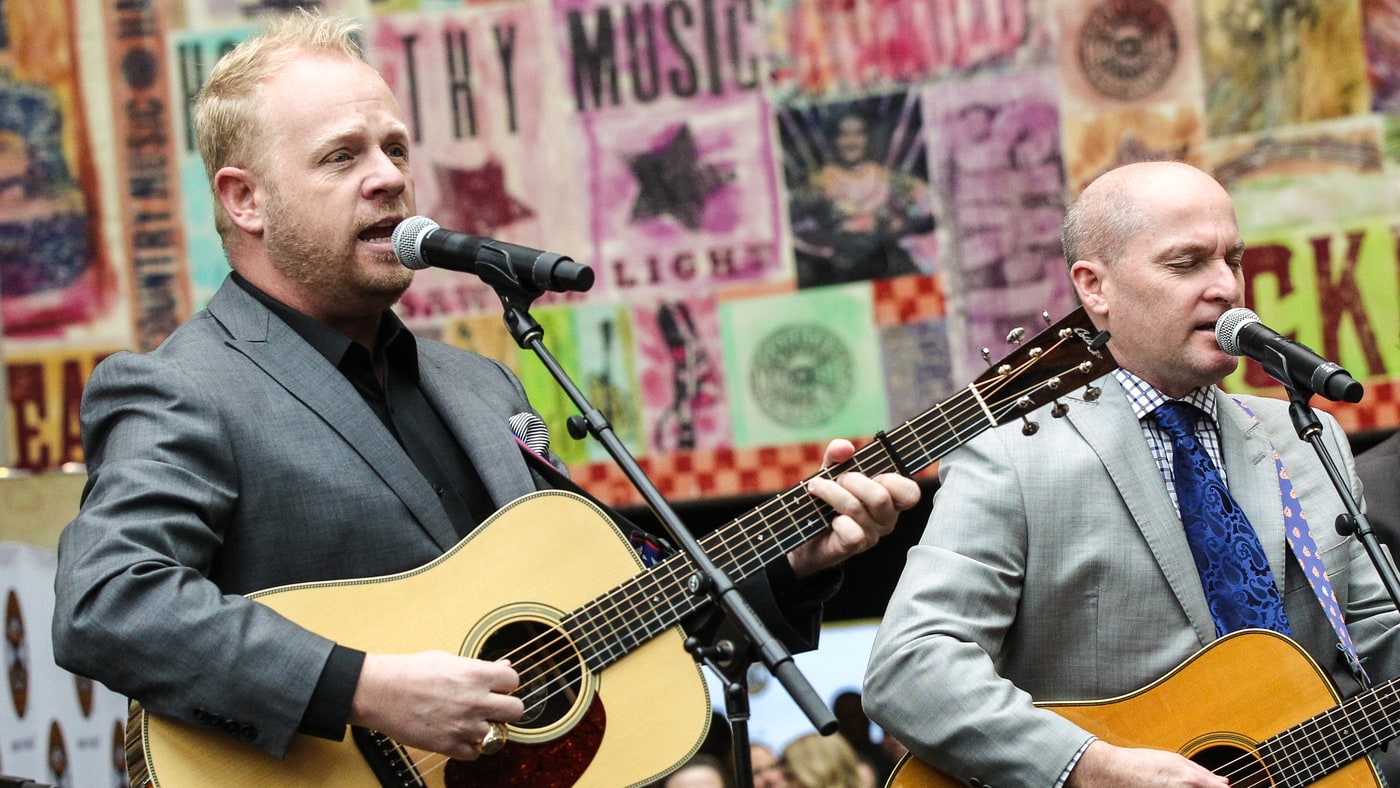 ROLLING STONE: Bluegrass Duo Dailey & Vincent on Bucking Tradition, New Country Album
NASHVILLE, TENN. – Ten years ago, on December 29th, 2007, Jamie Dailey and Darrin Vincent had their first paid gig as a duo with a performance on the Grand Ole Opry. The duo became official Opry members last spring, capping a remarkable decade of building an award-winning career that now encompasses an eclectic mix of country, folk, gospel and bluegrass music along with television and comedy.
 
Dailey & Vincent occupy a unique space in popular music by forging a sound that honors their traditional music pedigrees, yet is edgy enough to appeal to more progressive audiences. That evolution has been both organic and a little calculated, borne out of trying to shake up their own routine. "The first year or so we went out and did pretty much all traditional bluegrass and the second year we thought we had to come up with something different, so we went wireless with the vocal mics so we would walk around and sing. We were trying to make it more interesting," Dailey tells Rolling Stone Country over a plate of beans and cornbread before a Tuesday night performance on the Opry.
"About two years later we hired a bass singer," he continues. "When we did that, that got us into doing lots of variety – real gospel to quartet-style singing in both secular and gospel."
 
Before they teamed up to become Dailey & Vincent, both men were already seasoned musicians with stellar reputations in the bluegrass and country communities. Dailey had spent nine years performing with legendary bluegrass outfit Doyle Lawson & Quicksilver, while Vincent logged 11 years with Ricky Skaggs' famed band Kentucky Thunder as well as contributing to albums by Dolly Parton and others. Vincent first met Dailey in 2001 at the International Bluegrass Music Association Awards in Louisville, Kentucky. "He was singing with Doyle Lawson," recalls Vincent. "I was sitting with Ricky and Sharon White Skaggs and we were smitten by Jamie's vocal. By the time the song was over, I got backstage quickly and as he was walking off stage, I had my hand out and said, 'I'm Darren Vincent and I'd like to be your friend.' We exchanged numbers."
The two became instant friends and began working on songs together. It didn't take long to discover they had a special chemistry. "One thing we've done that has never been done before – that I know of – is in January of 2007, Jamie and I gave Doyle and Ricky a year's notice that we were leaving at the end of that year," Vincent says. "We told them that we'd help them find replacements for us or whatever we needed to do because we wanted to make sure it was an easy transition for them."
 
When they informed their booking agent they expected to book 100 dates their first year as Dailey & Vincent, they were met with skepticism. In fact, when the agent was slow to get dates on the books, the duo began booking themselves and had 86 shows confirmed in three months. They went to the booking agency and dropped a thick binder with all the dates on the agent's desk. Needless to say, he then got to work and continued filling their calendar.
It didn't take long for Dailey & Vincent to build a strong following and earn the respect of their peers, collecting nine IBMA nominations in that first year alone, seven of which they won. "We made history," says Dailey. "From what we understand, we were the first group in bluegrass at an award show ever in history to win Entertainer, Vocal Group and Emerging Artist all in the same year. It was quite a feeling and quite a humbling night."
Dailey & Vincent have continued gaining momentum since those formative early days, but they admit their desire to push against boundaries has cost them fans at times. Among their riskier moves was bringing on a full-time drummer – standard practice in most areas of music, but taboo in traditional bluegrass circles.
"It was hard on a lot of the traditionalists and we lost a bunch of them I think through the years," Dailey says. "[But] the people that come to see us for the most part, I believe it is safe to say that 99 percent of them know we do what we do. They know that we are there to try to play the best music that we can and to entertain to our fullest ability and luckily they fill the seats, buy our stuff and continue to support us. They're just music fans. They're not labeling what genre it is."
By the same measure, gospel music is also a key part of their show and a reflection of their faith – something that doesn't always sit too well with others. During one show, the promoter told them she didn't want them to do any gospel music in their set because it might alienate some patrons, but when fans kept calling out requests, they caved and performed Gillian Welch and David Rawlings' "By the Mark." "When we finished it was a full house standing ovation and they wouldn't sit down," Dailey recalls with a smile. "She looked absolutely mortified that they were standing and screaming for more."
"We honored the Lord and what he wanted us to do," adds Vincent. "And looking at those fans, we had to do what they wanted."
Dailey & Vincent's discography reflects the same versatility as their live shows. Their recorded output includes several bluegrass albums, a gospel record (The Gospel Side of Dailey & Vincent), a live album (Alive! In Concert) and a tribute to the Statler Brothers (Dailey & Vincent Sing the Statler Brothers), many of these released through their strategic partnership with Cracker Barrel. The duo's latest album Patriots and Poets – a collection of original songs co-written with Bill Anderson, Jimmy Fortune and others ­– was released last March and features guest appearances by Steve Martin, Doyle Lawson, Bela Fleck, TaRanda Greene and David Rawlings. After several years with venerable indie label Rounder, the duo is currently recording for producer Keith Stegall's Dreamlined Entertainment. They plan for their next album to be a straight-ahead country record.
"Doing a country record makes sense for us," says Vincent. "It's something we haven't done and will be fun for us to do. And when our career is over we can say, 'Hey I was proud of everything we did and we did everything we wanted to do.'"
At least thus far, that's what Dailey & Vincent have done, letting their exceptional musicianship take them down multiple new avenues and reach fans who haven't experienced them before. It's definitely been a road less traveled, but Dailey says he'd encourage anyone else to do the exact same.
"A lot of times young musicians come to us and they ask, 'What do you think we should do? How do we get started?'" Dailey says. "First of all, you can't always listen to everybody around you. You have to listen to yourself, your inner heart. You have to study and be aware. Keep your finger on the pulse of what's going on around you at all times and think through it and know how to react.
"A lot of times you'll hit it," he adds. "Sometimes you'll miss it, but praise the Lord, the two of us for the most part have been able to nail it on the head most of the time."
-Article by Deborah Evans Price, Rolling Stone