GMA Announces The Isaacs to be Inducted into Hall Of Fame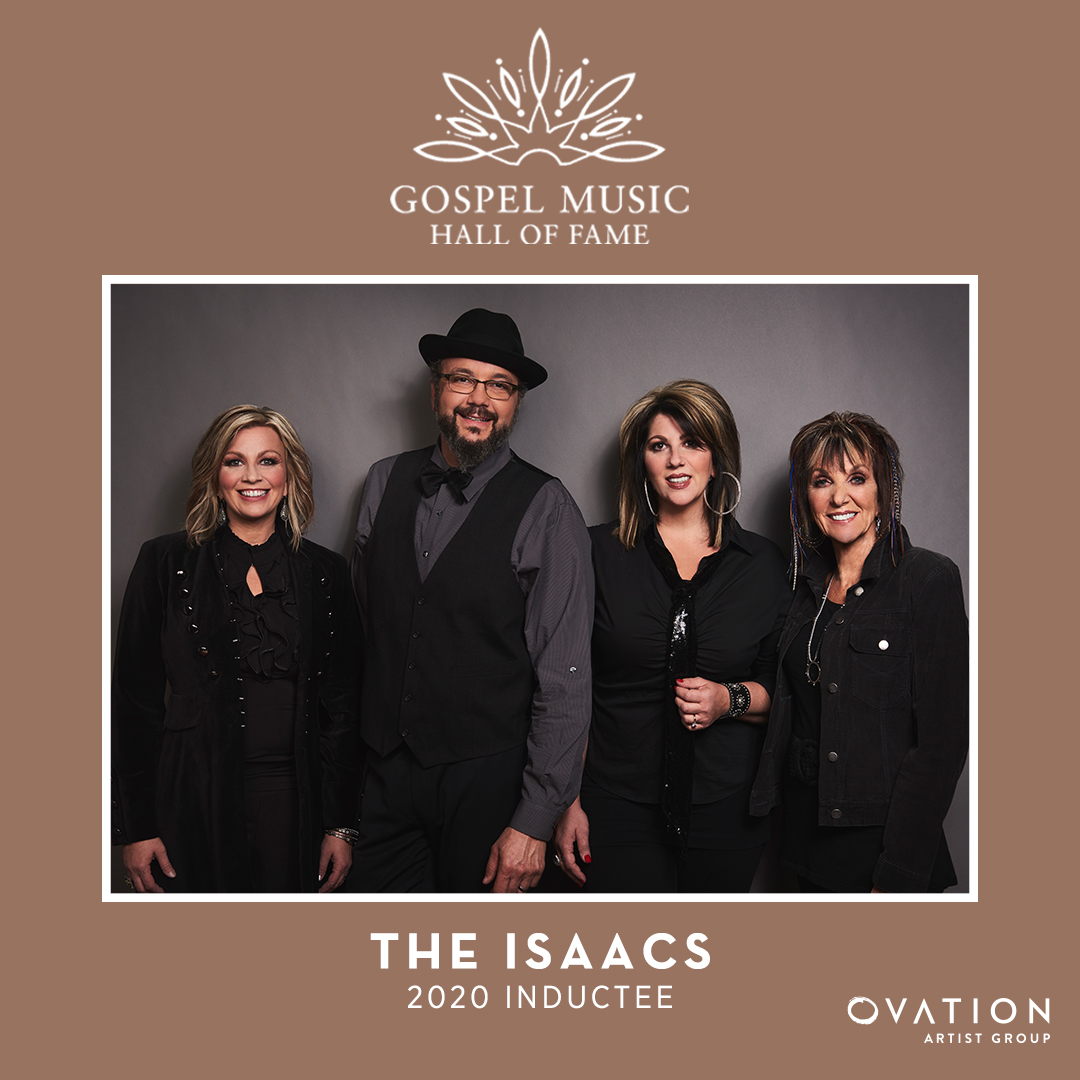 GMA Announces The Isaacs to be Inducted into Hall Of Fame
**GMA Honors Postponed until May 2021 due to COVID19**
Nashville, TN - This morning (March 9th, 2020) the Gospel Music Association (GMA) announced it's 2020 Hall of Fame inductees which includes multi-award winning family group, The Isaacs. The Hall of Fame Induction will be held on Wednesday, May 6th in Nashville, TN. Bill Hearn, 4Him and Commissioned complete the list of 2020 inductees. 
GMA President and Executive Director, Jackie Patillo, says, "The GMA is humbled to have an evening such as this to honor our industry's leaders and innovators. We continue to be in awe of how gracious each and every one of these recipients are in sharing their talent and philanthropy around the globe."
The Isaacs will be in the Hall of Fame alongside members such as Dolly Parton, Johnny Cash, Ricky Skaggs, CeCe Winans, Amy Grant, and many more. Performers and presenters will be announced in the coming weeks. Read more here. 
About The Isaacs
The Isaacs are a Nashville based, multi-award winning family group, consisting of siblings Ben Isaacs, Sonya Isaacs Yeary and Rebecca Isaacs Bowman, and their mother, Lily Isaacs, who is the daughter of Polish, Jewish Holocaust survivors. The band's unique style showcases tight family harmony and blends their multi-genre musical influences of bluegrass, rhythm and blues, folk, country, and southern gospel. Known for their high profile collaborations, The Isaacs biggest fans and contemporaries include Reba McEntire, Dolly Parton, Alison Krauss, Alabama, Big & Rich, Trisha Yearwood, Merle Haggard, Don Williams, Paul Simon, Trace Adkins, Vince Gill, Ralph Stanley, Mark Lowry and Dailey & Vincent. 
About GMA
The GMA Honors & Hall of Fame Induction Ceremony supports the preservation efforts and educational programs of the GMA Foundation. The event also celebrates current individuals and organizations within the Gospel music arena that are making considerable contributions to the world through their humanitarian efforts, as well as their talents. For over 40 years, the GMA Foundation has honored well-deserving individuals and groups through an annual induction ceremony into the GMA Music Hall of Fame. Artists are eligible for inclusion in the GMA Gospel Music Hall of Fame after 25 years of participation in music and ministry. The GMA Hall of Fame Committee that is comprised of historians and industry leaders from the various gospel music genres chooses nominees. Inductees are selected by electors across the industry in four categories: CCM, Gospel, Southern Gospel and Non-Performing. Nominees can be submitted for consideration year round by the public at www.gospelmusichalloffame.org. 
For information about booking The Isaacs, email info@ovationag.com or call 615.991.4210.